Karl Sanger Biography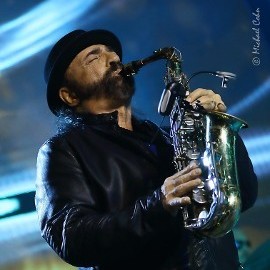 (Tenor, Alto, Soprano & Baritone Saxophones, Vocalist, Flute, Clarinet, Recorder,
Keyboards, Guitar, Harmonica, Penny Whistle, Pocket Sax, Songwriter, Collaborator, Writer, Producer, Talent Agent)

Karl Sanger has been in and around the music business all his life. Born & raised in Rochester, New York, the son of a computer systems analyst & homemaker, one of four brothers. Gifted at an early age with a golden ear, he began playing in his native New York club scene, studied at some of the finest institutions & soon began to fuel a love affair with music that has lasted his lifetime. After attending Nazareth College of the Arts, Karl began his professional life as a musician where he honed his musical craft & played in numerous bands. Karl's saxophone, keyboard, emcee & vocal talents would later take him on tour to the West Coast where he relocated in Los Angeles. Karl took a break from touring to use his business skills where he spent several years in hotel management culminating with a position as General Manager of a 300 room hotel in the Disneyland area. Karl soon realized that if he was going to work 60-80 hours a week, it might as well be in his own business. Thus, he combined his business know-how with his love of film, television, literature, music, & entertainment. The result was Sanger Talent Agency, a licensed & bonded talent agency including a film & music division representing LA's finest actors, screenwriters & recording artists in addition to an entertainment company, booking all types of talent for casinos, special events, concerts, corporations, conventions, private functions, etc.

And the train continues to roll after his recent solo record release of ABSOLUTE POSITIVITY. Sizzling sax melodies, distinct tone & versatility from instrument to instrument help Sanger bring excellence, electricity, passion & an abundance of energy to expectant audiences. Sanger's technique & proficiency is expertly complimented by his unbridled showmanship & ability to work the crowd. His influences and styles range from gritty rock, uptown funk, r&b grooves,& sizzling jazz to mellow ballads,sexy soul & down & dirty blues. In addition, Karl is the featured saxophonist for the prominent critically acclaimed tribute band, Turn The Page, The Ultimate Tribute to Bob Seger & The Silver Bullet Band, playing theaters, casino show rooms and concerts across the globe as well as a variety of other projects such as The Sam Morrison Band, Southern Rock Explosion, The Karl Sanger Project & The Funky Syndrome Duo. He can often be found in various recording studios as he is a sought after session recording artist or teaching in his studio, sharing his gift with hungry students.

Karl's diverse life experiences, voracious appetite for reading, & work ethic also helped him to develop his craft as a writer. After writing 10 screenplays & teleplays, he wrote his first non-fiction book, ABSOLUTE POSITIVITY, an Inspirational Story of Positivity, Prayer & People. Since it's release, the book has received 5 Star reviews & is experiencing strong sales, climbing as high as #7 on the Amazon.com Inspirational book new releases. Karl cherishes personal time with his wife, his 3 beautiful adult children, niece & significant others in the Los Angeles area and his 1st grandson. In his "leisure" time, he enjoys reading, movies, sports as well as disc jockeying, & special time with friends. A renaissance man, Karl considers himself a crazy compilation & contradiction of business knowledge, creativity, & artistic talents. He strives to live each day with an attitude of gratitude.